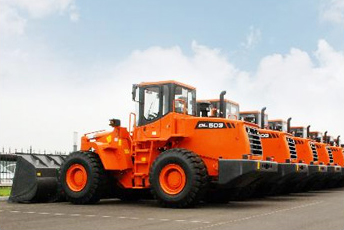 Engineering Machinery Industry Association of soil transport machinery branch
  XX Engineering Machinery Industry Association of earthmoving machinery branch (hereinafter referred to as the scooptram branch) is approved by the Ministry of civil affairs of People's Republic of China (agency license No. 3246-5), by engaging in earthmoving machinery industry of scientific research, manufacturing, testing, sales and use of units and other national, non-profit units composed of voluntary industry organization. The business scope of loaders, bulldozers, graders and scrapers and other products.

Shovel branch is a branch of China Construction Machinery Industry Association, founded in May 29, 1989. The shovel tenet is: to abide by the constitution; abide by the laws, regulations and policies of the state; abide by social morality; to assist the government to implement industry management; for the government, industry, membership and user service; become a bridge between government and enterprises and users; safeguard the legitimate rights and interests of members; members reflect the aspirations and demands. Industry self-discipline behavior, is committed to promoting the development of China's earthmoving machinery industry.
At present, the shovel branch in the soil transport machinery industry has made recommendations, organization and coordination, self supervision, information communication, consulting services and other functions. The specific contents include investigation and Research on the development of industries and enterprises, provide the development of the industry to the relevant government departments and superiors, reflect the aspirations and demands of the industry and its members; to carry out industry statistics and information network, to provide statistical services for member units; commissioned by the government or relevant departments, organize or participate in the revision of the industry standards and technical specifications; carry out customer satisfaction survey, product quality research, collection of product quality information industry, to assist the government to make quality management work, promote the quality and performance of products, and constantly improve the industry; carry out technical exchanges and training activities, members of the organization to participate in and visit the domestic and international professional exhibition develop; "line about", the establishment of industry self regulatory mechanism, safeguarding the overall interests of the industry and the consumer The legitimate rights and interests of enterprises, to promote fair competition; to complete the work assigned by the higher authorities, and commissioned by members of the unit and the relevant units, a variety of consulting and service work.